The Best Places for Easter Mass (and Passover) in NYC
---
Gabriella Bavaro, Staff Writer
New York is a city that is deeply rooted in many religious traditions. It's the perfect place to spend Easter Sunday/Passover as well, whether with the Easter Parade   that speaks to New York Christian tradition or the various restaurants that modify their brunch menus in honor of the holidays, as both fall on the same day this year.
In terms of mass on Easter Sunday and temple on Passover, there are many historical, beautiful, and uplifting places of worship for every denomination.
Saint Patricks Cathedral – Historic, Roman Catholic 
One of the most beautiful and well-known Cathedrals in New York, its a delight for all churchgoers to experience the exquisite and vast marble interior (in Neo-Gothic Style)  and the vibrant organ and choir accompaniments to masses. The cathedral is also embellished to the nines during Holy week.
Here's the link to their special Easter mass schedule and Holy Week programs.
Times Square Church – Interdenominational
The Times Square Church is in the heart of Midtown, Manhattan, and has  more than 8,000 worshippers, representing more than 100 different nationalities, each week. This church warmly welcomes people from all Christian traditions.
Temple Emanu- El – Reform Judaism 
This historical temple was the first Reform Jewish congregation in Manhattan, founded in 1845. Because of its size and prominence, this beautiful house of worship serves as a flagship congregation in the Reform branch of Judaism.  It also features a the Herbert & Eileen Bernard Museum of Judaica
Click here for the link to their calendar
The Brooklyn Tabernacle-  Multicultural, Non-denominational
This large church is at the epicenter of downtown Brooklyn and has grown tremendously in it's audience.  Today it is a congregation of about 10,000 people weekly. This church also features the Grammy Award-winning Brooklyn Tabernacle Choir,   led by Pastor Jim Cymbala and his wife Carol Cymbala. It's worth a look just for the choir if you are in the Brooklyn area!
Here's the link to the calendar of events.
Marble Collegiate Church – Protestant, Historical 
The Marble Collegiate Church was founded in 1628 and is one of the oldest continuous Protestant congregations in North America. Apart from this, it is incredibly beautiful, and has an extensive mass selection for Holy Week and Easter weekend. They also offer a live streaming of their masses!
Here's the link to their extensive events calendar and community activities!
The Archdiocesan Cathedral of the Holy Trinity – Eastern Orthodox
This breathtaking church is located at at 319–337 East 74th Street on the Upper East Side in New York City, New York. It consists of Neo-Byzantine architectural style and practices Greek Orthodox.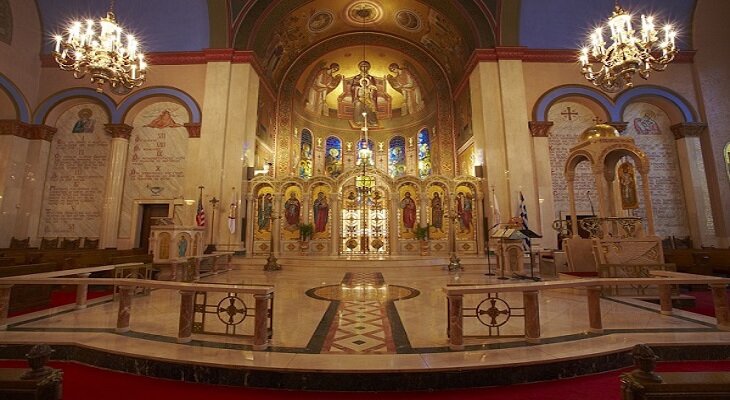 Here is the link to the entirety of their Lent AND Holy Week schedules, leading all the way up to Palm Sunday.
Grace Church – Historical, Episcopal
This breathtaking church is a historic parish church in  downtown Manhattan. The community is always friendly, and the sheer awe of the structure will take your breath away. Nested on E 10th and Broadway, this church serves as a haven for many in Greenwich Village from the stress of the city.  The church is part of the Episcopal Diocese of New York.
Click here to view their Holy Week and Easter services.